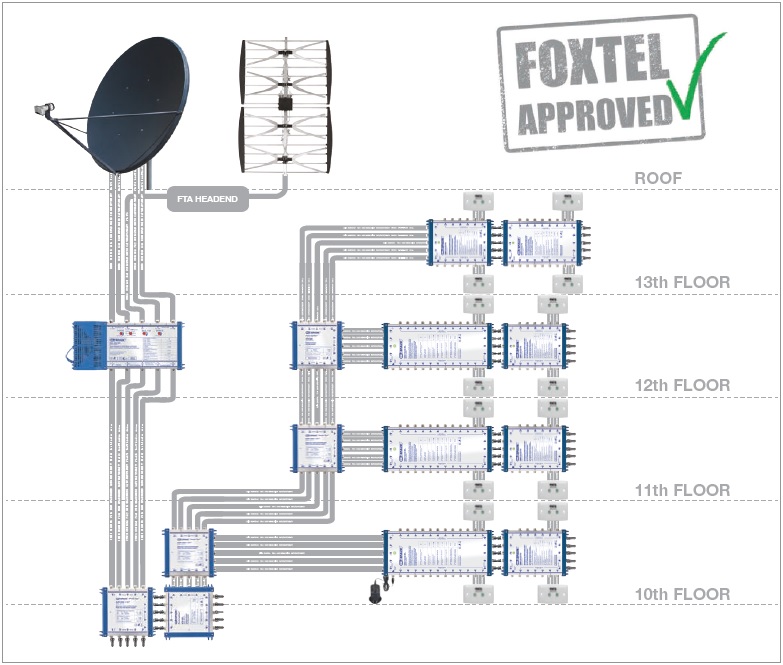 Foxtel Endorsed Industry Installer
TVSAT are endorsed by Foxtel as an industry installer of Commercial and MDU Satellite and TDT systems.
Our company details are available on the Foxtel website for reference.
FOXTEL has set processes and specifications in place for designing, installing and commissioning Multi Dwelling Units (MDU), Multi Residential Estates (MRE) and Commercial installations to FOXTEL's expectations.
Since the launch of FOXTEL Digital, the installation process for MDU's has become more complex. Installation specifications need to be robust to accommodate future evolution.
FOXTEL has implemented specific standards which MUST be adhered to.
The installer's process involves;
Conceptual design documentation and approval number
Installation completed as per required specifications
Commissioning and Scope of Works documentation
5 Wire Satellite
In recent years FOXTEL has launched new channels, interactive services and products (such as IQ, IQ2, HD, Video on Demand, Multiview, Personal Digital Recorders) that required changes to FOXTEL installation techniques.
The FOXTEL Standard is for a 4 cable backbone (5 cables if integrated with FTA), with two laterals to every outlet.
Request for Foxtel MDU Installation Process Flow Chart
TDT Network
The Foxtel TDT headend converts satellite (QPSK) to cable (QAM) for FOXTEL services to be delivered via a single wire network. Distribution of Open Broadcast services and any in-house services can be integrated at the headend to be delivered over the same network.
For any FOXTEL TDT installation, the signal shall be delivered via a high-availability 1.2m satellite dish, processed by the TDT headend, distributed throughout the complex network (cable or fibre-based) and finally delivered to FOXTEL subscribers at wallplates in customer units and homes.
The correct placement and choice of components should be considered to achieve the required system performance.
National Broadband Network (NBN)
The NBN will not be carrying FOXTEL and O.B (FTA) RF audio-video services on the NBN backbone.
It is recommended that two backbones are installed to cater for all services:
Backbone for FOXTEL and O.B Services
Backbone for NBN services.
FOXTEL specifies that 2 x cat6 cables should be installed adjacent to the FOXTEL wallplate. These cables can be used for an ethernet connection to FOXTEL or O.B and can also be used to deliver NBN or other services.